Contact-free cards have a built-in chip with an integrated aerial.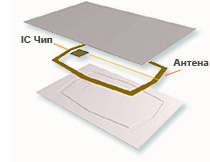 These cards are not put in the reading device, since the information is decoded from a distance.
We offer our clients PVC cards with ÅÌ 4102 contact-free chips emitting at frequency of 125 kHz. They do not need to be recharged and are read-only designed.
The information recorded in a chip by its manufacturer is a 5-bite unique code. This makes it very reliable and versatile. Cards with built-in chips are often used for control of access to offices, hotels, car parks, ski lifts etc.
At client's request, we can additionally mount a magnet tape to the contact-free smart card. According to their application, the contact-free cards are:
According to their application, the contact-free cards are:
•
Access Cards (corporate buildings, hotels, car parks)
•
Identification Cards