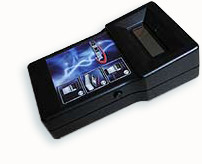 CountRol is a card-counting device, which has been designed and produced by Bank Wear engineers. It is easy to handle, portable, reliable and could be used for counting credit, telephone and other types of cards made of PVC, PC, ABS, cardboard and other materials over o.3 mm thick. The device cannot count transparent and fully black cards. It has a compact, reliable plastic box and precise counting sensors which guarantees correct results. Instructions:
CountRol scans the ordered cards put in upright position. A couple of laser sensors counts the cards, compare internally the results and shows the actual number on the integrated display.

The "adding" regime of the counter has a capacity of up to 50,000 cards. Bank Wear device is charged by AC/DC adapter. It can be used only in independent regime using rechargeable batteries.

Technical details:
Weight, including batteries:

not more than 180 grams;

Size:

length 144 mm, width 85 mm, height 39 mm;

Display:
Monochromic LCD – 8 symbols;
Power Supply:
Main supply:
Self-contained:

Charger 230V/50Hz;
4 õ 1.2V rechargeable batteries;
Types of cards:

all plastic and cardboard cards over 0.3 mm (cards must be clean of any dust and smoothly stamped). Not able to count transparent and black cards;

Capacity:
from 1 to 50,000 cards;